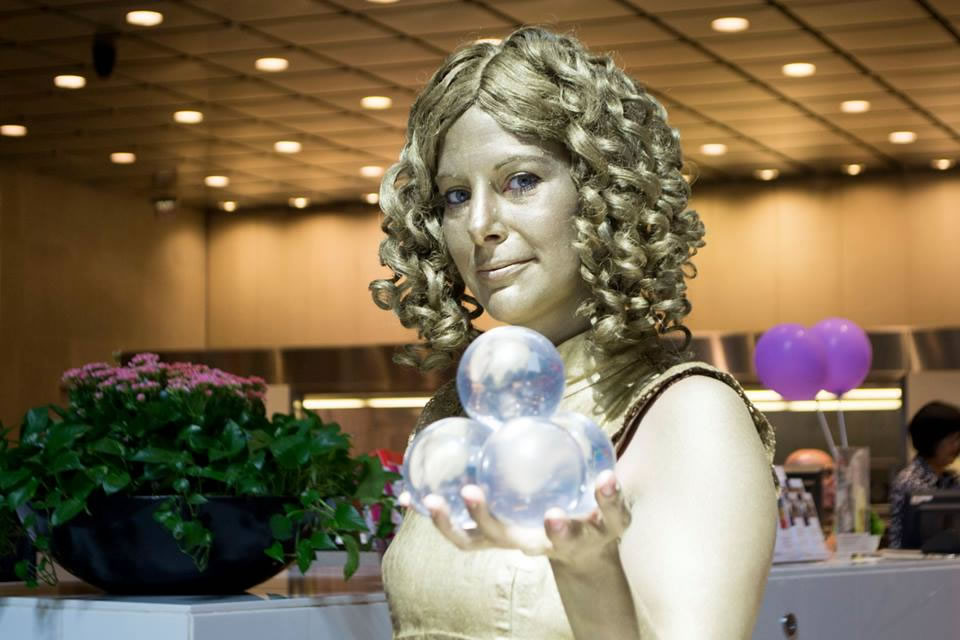 The short version:
Dawn Dreams is a contemporary circus artist and living statue specializing in the mesmerizing manipulation of crystal balls. Performing her character Goldie all over the world for the last 14 years, Dawn is a perpetual student. She has been exploring character work with Ponchiko style clowning techniques, narrative through contemporary dance and the exploration of various object manipulation styles including fabric flag dancing, hoop manipulation and toss juggling. Having just returned from a 2 year training session in France, she is grounding her work in European techniques and ideas from the contemporary juggling scene.
The historical version:
Dawn found her circus passion when she was a child, but it was when studying social work and philosophy at the University of Victoria that she went deeply into the circus arts. She began collaborating with others to grow community, co-organizing several events including Victoria Juggling and Flow Festival, co-founding Madskillz Vancouver, and co-organizing the Vancouver Busker Festival's inaugural year.
In early 2011, Dawn volunteered for two circus tours with SPARK! Circus who help underprivileged children in migrant schools and refugee camps along the Thai/Burmese border. That spring she began the deeper work of clowning and narrative training with David Macmurray-Smith, which she continues with Lisa Voth. That fall she toured through South America with The Busking Project, an advocacy and documentary project which celebrates street arts around the globe. She continues to work with this project as a writer and social media manager.
Dawn Recently published her tutorial DVD, which teaches contact juggling and she is known world wide from her youtube fame. She continues to work and collaborate with circus companies as a contributor and writer for the Flow Arts Institute, and the Ministry of Manipulation.
In 2013 Dawn performed 78 performances in one month at the Edinburgh Fringe Festival and then dived head first into an artist residence called Le CouveNt in France where she developed a 45 minute children's show in 3 months time. She returned to Canada briefly to performing at few festivals including her favorite the Toronto Buskers Festival.
This past summer in Europe, Dawn developed a duet collaboration called Balles DeBloques, a narrative based theater company, and they performed at several festivals around France including Aurillac International Street Festival. She continues to work in Europe with mentors such as Sara Tilley and Ian Wallace in Ponchinko clowning technique, and has been taking direction from Rémi Laroussinie in the inter-arts study of object manipulation paired with contemporary and Butoh dance techniques.
Contact Dawn to see her beautiful work, learn some juggling, or to inquire about the juggling community!