Outdoor Acts
CATCHING BUBBLES – NEW!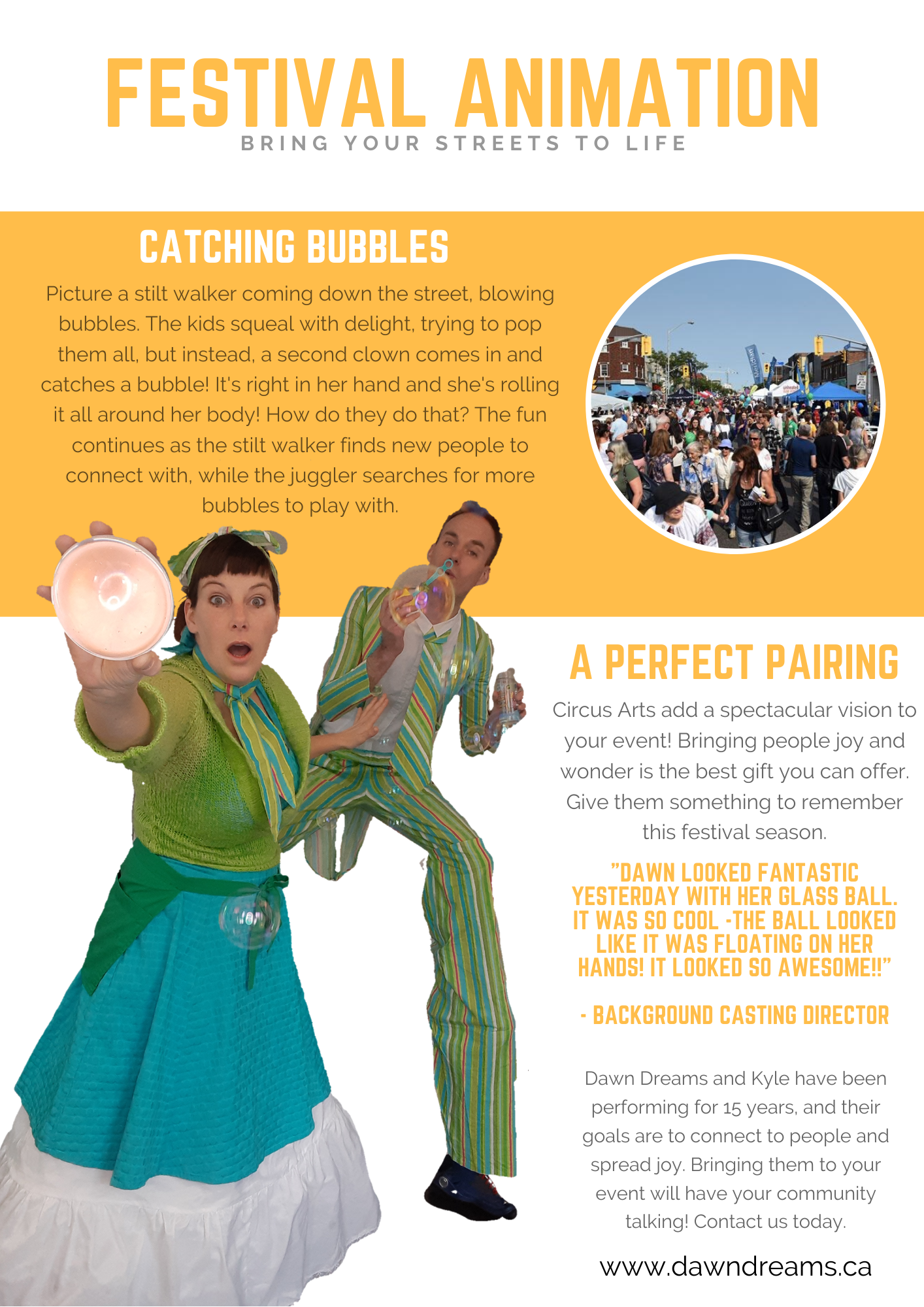 GOLDIE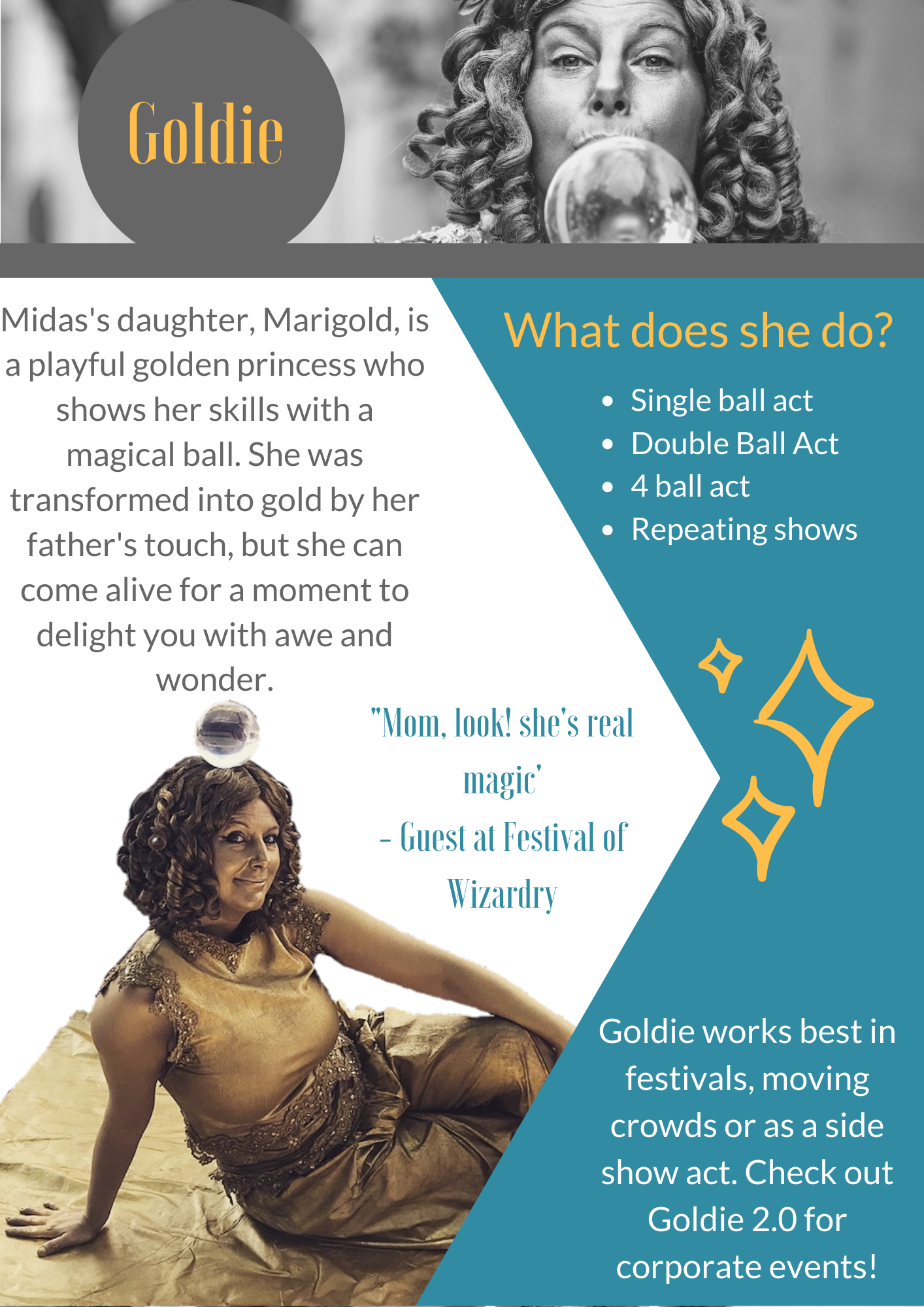 GENERAL ANIMATION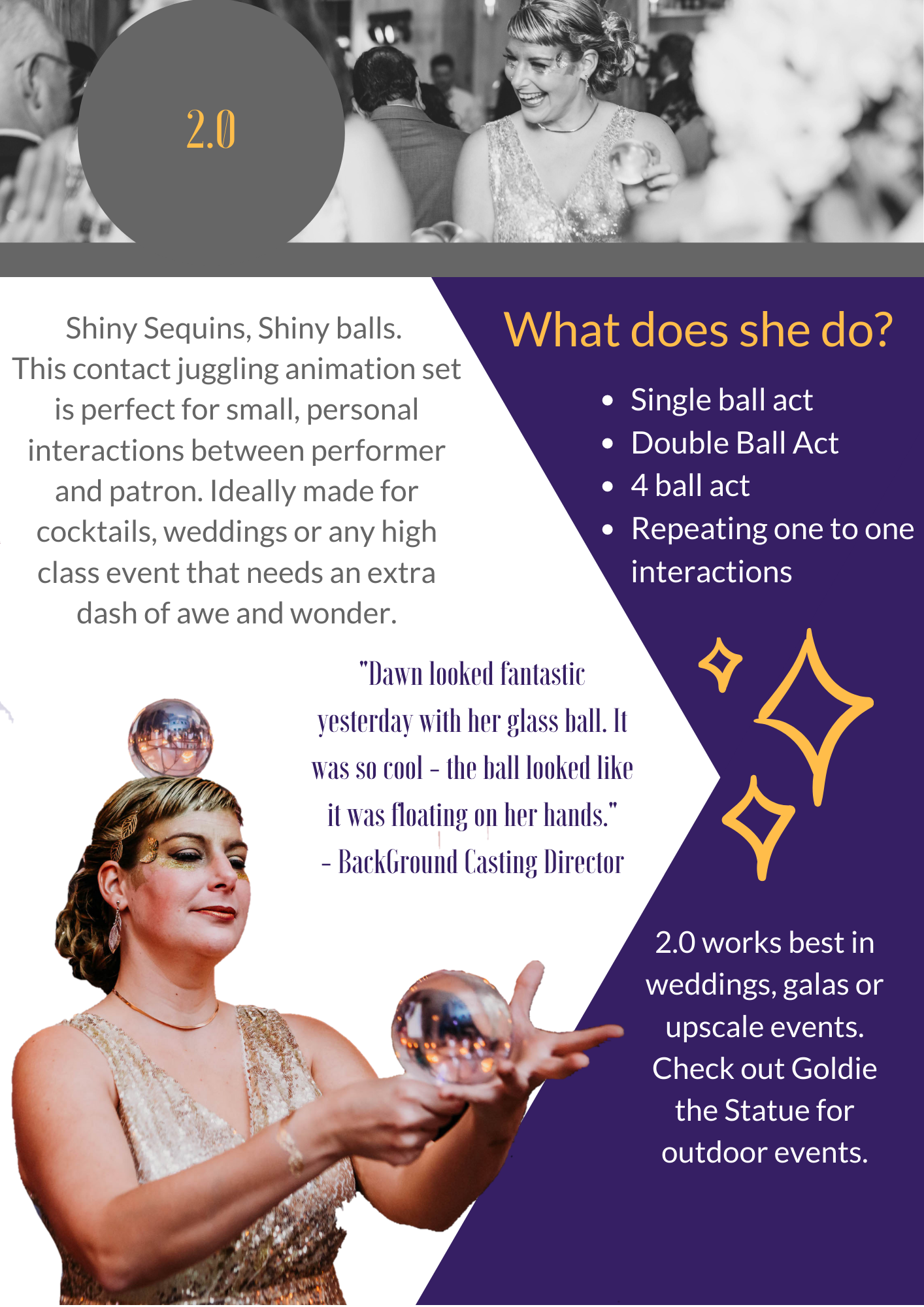 Crystal Ball Cocktail https://www.instagram.com/stories/highlights/17995051276277878/
LED Snow Princess  https://www.instagram.com/p/B7xAgRIAamL/
Stilt Walking and Juggling https://www.instagram.com/p/B5id0s8gg7I/
Weddings/Corporate https://www.instagram.com/p/B4qYhOKg0P0/
STAGE ACTS
Shooting Stars 
This act starts with some magical isolations, and leads into some incredible body rolling. It stops traffic and has a punchy feeling.
Contemporary Flow Act
Here's a simple contact juggling piece I did at the Kingston Jugglers Festival in 2016 where I added emotion and a small taste of contemporary dance ideas.
SCHERAZADE
Here is the act Scherazade I did with the Kingston Symphony, The full version is 11 minutes and includes most of my crystal ball, work, which also includes puppet contact balls and baby multi balls.
WORD PLAY
BUDDY THE BALL
Silly, uplifting contact juggling act with with a smiley-emoticon ball
https://www.instagram.com/p/B1g0eq2ARGi/
Contact Juggling Teaching 
"In my 15 years of contact juggling, I have encountered very few people who posses Dawn's ability to innovative, inspire and inform. She has a commitment to finding a deeper understanding of the art-form, which truly sets her apart as a performer, educator and driving force of our artistic community.

Tearing up the rulebook of established, now out-dated, pedagogy, Dawn's teaching method focuses on making contact juggling accessible and exciting from the very first lesson. Her research into the mechanics and mindset of body-rolling has created a wonderfully unique take on contact, striking a balance between the joyously playful and the fiendishly technical. All of which is covered in a clear, fun way in her classes.

The amount of thought that Dawn has put into communicating this teaching method, coupled with the distinct nature of her style, means that I would not hesitate for a moment to recommend her as a teacher. From the aspirational new juggler to the jaded old hands (like me) I can't imagine anyone who wouldn't benefit from following Dawn's teaching."

– Thom Hardman, Contact Juggler, ballcontact.org
This is the first scene in a little downloadable teaching video – The Foundations of Body Rolling
Toss Juggling Teaching
CORPORATE WORKSHOP  – Teaching 1-3 balls to adults at offices or conventions 
KIDS WORKSHOP – Teaching elementals of juggling to kids over 7 years old
Little Ringmasters – 3-12 months old baby workshop  – Using juggling props to clown around with mamas and their babies!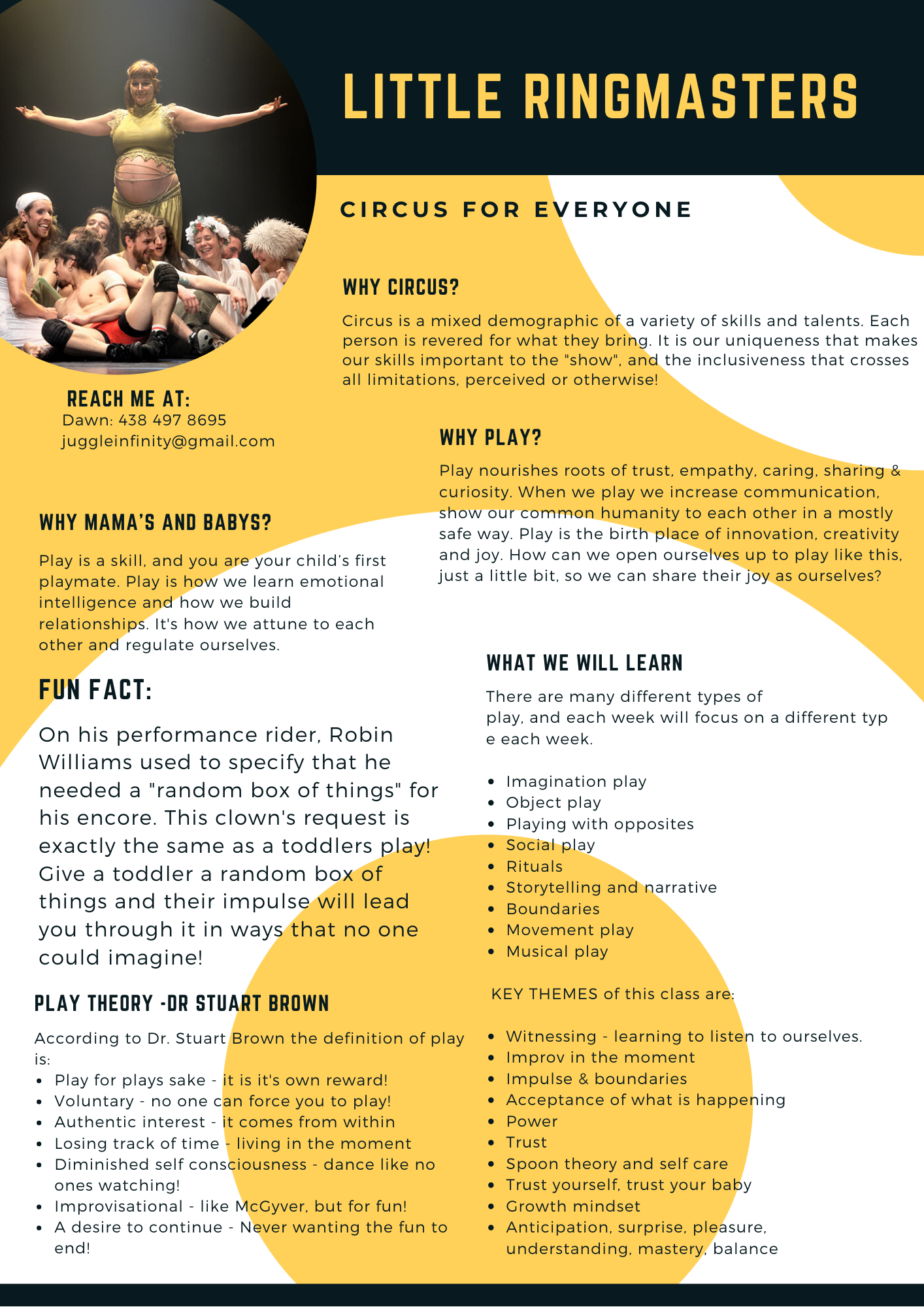 Basic Clown – Fun theatre games and playing with trust and getting to know emotions.
Juggling – 1 ball throw variations  – All the body throws you can think of. Good for beginners interested in exploring space around their body.
Private Online Coaching – www.dawndreams.ca/coaching/
FLOW ZONES! – This is a festival style free for all, where myself and some other volunteers share how to do what they are specifically interested in. It's open to the public and we have toys to share with everyone!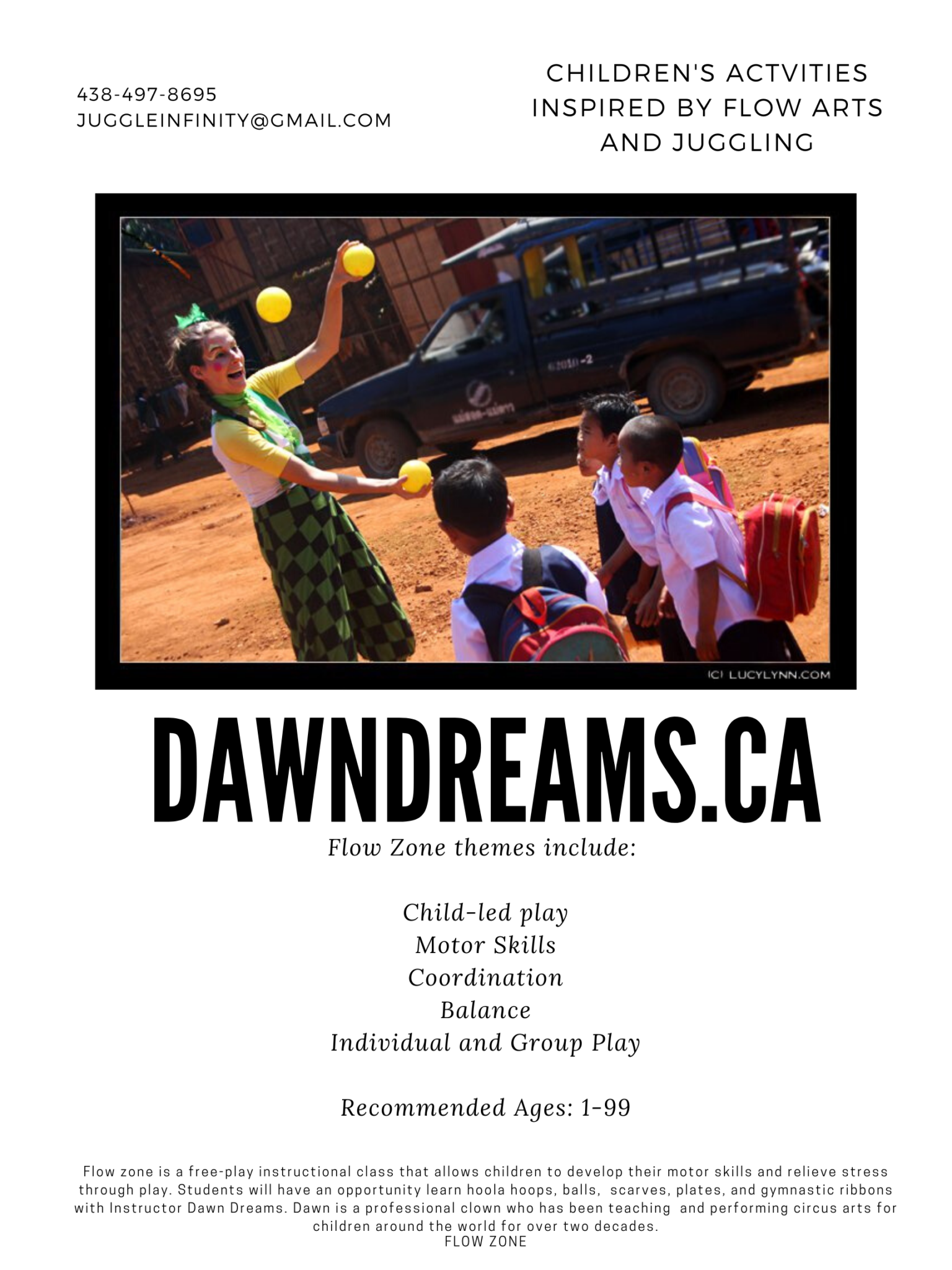 STILT WALKING